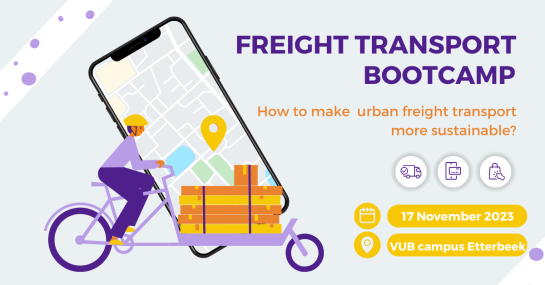 We are pleased to invite you to the Freight Transport Bootcamp that will take place on 17 November 2023 at the U-Residence, VUB Campus Etterbeek. The bootcamp focuses on the challenges and opportunities in urban freight transport and how we can address congestion, pollution, and inefficiencies in urban logistics through innovative and sustainable solutions.
Summary
This intensive bootcamp is designed to provide you with a deep understanding of the complexities surrounding urban freight transport. Through interactive workshops, expert lectures, real-world case studies, and hands-on activities, you will delve into the various facets of urban logistics, including last-mile delivery, e-commerce, cargobikes, smart transportation systems, and policy interventions. We aim to equip you with practical insights to develop sustainable strategies that can revolutionize urban freight transport. These insights are based on the 8 A's for a more sustainable transport system: Awareness, Avoidance, Act and Shift, Anticipation of new technologies, Acceleration, Actor Involvement, Adapt behaviour and All in love!
Target groups
The bootcamp is tailored for a diverse range of participants, including urban planners, transportation professionals, policymakers, logistics managers, environmental enthusiasts, entrepreneurs, and anyone passionate about creating more sustainable and efficient urban freight systems. It is open to both industry practitioners seeking to enhance their knowledge and students eager to explore sustainable transportation solutions.
Why should you join?
This bootcamp offers a unique opportunity to gain a comprehensive understanding of the challenges and potential solutions in urban freight transport. You will learn from leading experts in the field, engage in collaborative discussions with peers from various backgrounds, and develop practical skills to address real-world problems. By attending, you can contribute to making cities more livable, reducing environmental impact, and shaping the future of urban logistics. Whether you're an industry professional looking to stay ahead in a rapidly evolving field or a student interested in sustainable urban development, this bootcamp provides valuable knowledge and networking opportunities that can drive positive change.
Agenda
09:00 - 09:20: Welcome coffee
09:20 - 10:00: Introduction, Factor 8 and welcome round - Professor Cathy Macharis
10:00 - 10:40: Factor 1 Awareness: External costs - Joséphine Mariquivoi

Becoming aware is the first part of change. Transport is generating negative externalities on society as congestion, noise, air pollution or climate change. External costs analysis is a method which aims to estimate the impact of vehicle kilometers on society in several contexts. The goal of this session is to show how this method has the potential of raising awareness and support change of organization with examples within the logistic sector including cargo bikes for urban logistics or electric vehicles.

10:40 - 11:00: Coffee break
11:00 - 11:40: Factor 2 Avoidance: E-commerce - Professor Heleen Buldeo Rai

Can online shopping avoid transport kilometers and, if so, under what cirumstances? We start the session with this question and then delve into ways to organise delivery in the most sustainable way. The aim? To be able to transport a maximum number of parcels with minimal kilometers and emissions.

11:40 - 12:20: Factor 3 Act & Shift - Juliana Betancur Arenas

In an era where sustainability is paramount for our future challenges, e-cargo bikes have emerged as a clean, effective, and eco-friendly solution to meet businesses' and communities' evolving transportation and last-mile logistics needs. In this session, we dive into real-world examples of businesses and cities that have integrated cargo bikes into their logistics operations with Brussels Capital Region's effort as its core. Learn from their challenges, experiences, and lessons.

12:20 - 13:10: Lunch
13:10 - 13:50: Factor 4 Anticipation of new technologies: Autonomous mobility - Valeska Engesser

Emission reduction targets, polluted and congested cities, area access restrictions, and low-/zero emission zones call for new and innovative concepts. Can autonomous delivery solutions such as autonomous delivery robots contribute to future last-mile operations in our cities? Let's dive deeper in the current state of development, ADR benefits and challenges along their way to being implemented.

13:50 - 14:30: Factor 5 Accelerate - Professor Koen Mommens

After so many 'A' class presentations, it is time to put your seatbelts on, because we are going to accelerate. An action or measure in freight  transport comes not alone. It takes place in a transport system and broader environment which can impact the transition speed and the success of the action or measure taken. Let's have a look on how we can increase the speed.

14:30 - 15:10: Factor 6 Actor involvement - Dr. Philippe Lebeau

Speeding up is necessary. But we need to make sure we have everyone on board. As the African proverb tells us: "If you want to go fast, go alone. If you want to go far, go together". At Mobilise, we advocate for an inclusive transition developed together with the stakeholders. In this session we will go across a few initiatives that help stimulating the transition with a bottom up approach.

15:10 - 15:30: Coffee break
15:30 - 16:10: Factor 7 Alter behaviour - Kathleen Cauwelier

Most people are aware that changing their current behaviour is necessary to create a better and prosperous future, yet actual behavioural change rarely occurs. It's not that individuals don't desire it; they just frequently fail to act on their intentions. Why is that? In this session, we'll explore the fields of behavioural psychology and economics to discover how individuals and businesses can ecourage consumers to exhibit pro-sustainable behaviour.

16:10 - 17:30: Factor 8 All in love! - Professor Cathy Macharis

In this last session we get in the right mood for change. We visualise how the future could look like and get concrete steps towards it!

17:30 - 18:30: Reception

 
Note: If you want to join the bootcamp, we ask for a registration fee of 250€. Students can join for 100€. Registration is mandatory. 
We hope to welcome you during our Urban Freight Transport Bootcamp! See you then!